A dynamic discussion at the Governors' round table #ifadgc
By Nicole Carta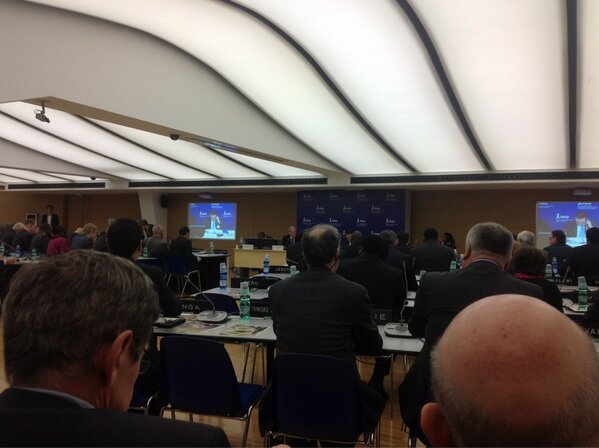 In addition to the many successes of last week's IFAD Governing Council, another highlight was the launch of the Governors' Round Table – a new forum designed to foster more interaction and exchange among IFAD Governors on strategic issues impacting smallholder farmers.
President Nwanze created the round table in response to direct calls from our Governors for more opportunity to exchange ideas and experiences among each other during the annual meeting. This year the Round Table was moderated by Ambassador Miguel Ruiz Cabañas Izquierdo, Permanent Representative of the United Mexican States to IFAD, and Vice-Chair of the IFAD Governing Council, and focused on Partnerships for Financing Agricultural and Rural Development.
During the two-hour session, Governors and Heads of Delegations from 109 Member States reflected on how to build and finance partnerships that can best support smallholder farmers and their role in transforming agricultural systems and rural economies to achieve greater prosperity, sustainability and equity. Building upon a
Discussion Note
that included notable case examples from IFAD-supported programmes, participants underlined the critical role of IFAD in brokering sustainable, productive, profitable and equitable partnerships that centre upon smallholder interests. Many delegates also highlighted the important role of the public sector in creating enabling environments for new partnerships to thrive. Further, the need for increased access to finance for smallholders was also a sentiment shared among many.
IFAD was commended by Governors for creating the new forum, and for its role in brokering many of the partnerships discussed in such detail. IFAD staff who followed the discussion commented that the session was a good learning opportunity to learn more about the existing partnerships and initiatives on which our Member States are working, and were further encouraged to hear that, by in large, IFAD's work is focusing on the issues and concerns Governor's raised throughout the event. A key highlight for many were the Quinoa cookies brought all the way from Bolivia that provided a very tasty example of a successful IFAD-supported partnership.
Feedback received from 70 participants was overwhelmingly positive for the Governors' Round Table, and next year will surely bring an opportunity to further build upon its success.