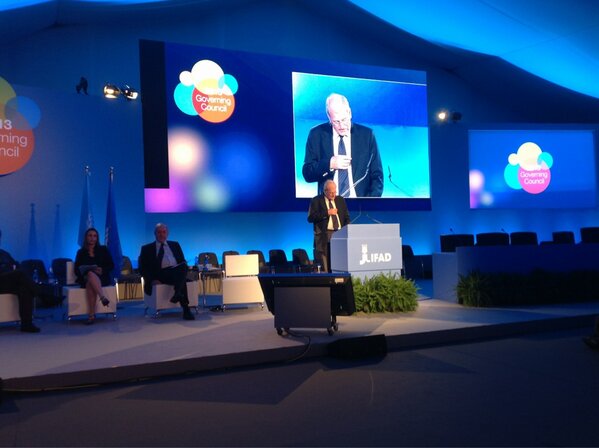 How can IFAD improve its strategy and commitment to the IFAD 9 agenda of impact assessments
? International experts participated in the panel discussion on 12 February 2013 to discuss how awareness and support among stakeholders can be built around the IFAD 9 impact evaluation agenda to validate IFAD's approach and enhance partnerships. It has generally been recognised that measuring impact is vital to better plan interventions for increasing aid effectiveness and to support poor people to move out of poverty.
Mr
Philip Davies
, Head of 3ie, London, has stressed the importance of sector harmonisation and the strengthening of partnerships to develop better local evaluation systems. Ms
Alessandra Garbero
, Econometrician, Statistics and Studies for Development Division, IFAD, has pointed out that more efforts need to be made to improve impact data.
Gero Carletto
, Lead Economist in the Development Research Group of the World Bank, has presented to the audience the potential use of the Living Standards Measurement Study (LSMS). He also said that learning across organisations and the harmonisation of methodologies is required to overcome the "donor-centric" approach in measuring impact.
Mr
Jerry Clavesillas
, Project Director, Rural Microenterprise Promotion Programme, Philippines, has emphasised the importance of inclusion of evaluation and impact measurement at the project design stage and the commitment of the Government to support the process. Positive experiences with effective impact measurement in the Philippines has been recognised by the Government and is now perceived as an empowering tool for better investment planning.
His Excellency Mr
Miguel Ruiz Cabañas Izquierdo
, Ambassador of the United Mexican States to Italy, provided evidence on how important it is to involve the beneficiaries, local and national Governments in the impact assessment process to avoid investment failures. Mr
Carlos Sere
, Chief Development Strategist, Statistics and Studies for Development Division, IFAD, considers this discussion as the beginning of a dialogue to build up partnerships to work together on the agenda for better measuring results.